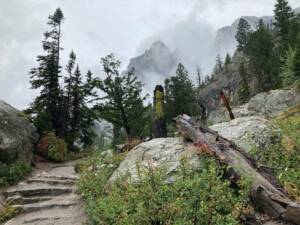 By: Julie Shipman, CEO |Founder
Have a question or comment? Connect with me at Julie.shipman@jwsgroupllc.com
I'm delighted to officially launch the Talent Advisory business for JWS Group – Talent Advisors. This new service will provide organizations with Talent Acquisition consulting in 3 key areas:
Strategy and creating recruiting programs
Unlocked – opportunities for Internal employees to grow their career…. within their organization
Hiring Manager and Recruiter skills training
This new business offering began as a concept in my mind last summer on our family vacation. There a photo on the website under the Talent Advisory tab that was taken on a hike in the Grand Tetons. This hike is where the idea became a concept which became Talent Advisory.
When I reflect on that moment – the idea turned into concept – so many of the details of that day seem like a metaphor for this business:
It was raining, lightly but enough to require rain jackets and pants in August. Pants in August doesn't make sense, except when they do.
The Tetons were covered by clouds and mist, making them difficult to see. What's obscuring your sight line?
The path was steep, slippery from the rain and tricky to navigate. Starting new businesses can be tricky.
Reaching the summit and being able to see in every direction provide a view, despite the rain, that took my breath away.
A wider view with multiple sites lines tends to coalesce information.
I have loved Talent Acquisition since my internship with United HealthCare when it was still a 7,000 employee company. I knew when I graduated from college I was going to work in Talent Acquisition. I knew it like I knew how to breathe. It just fit.
Ask me about Talent Advisory. I can't wait to tell you about the site lines and how they can help your business grow.
#entrpreneurship #talentacquisition #daretodream