Career Compass: Guiding you to the right job, and giving you the confidence to land it.
Our Career Compass Method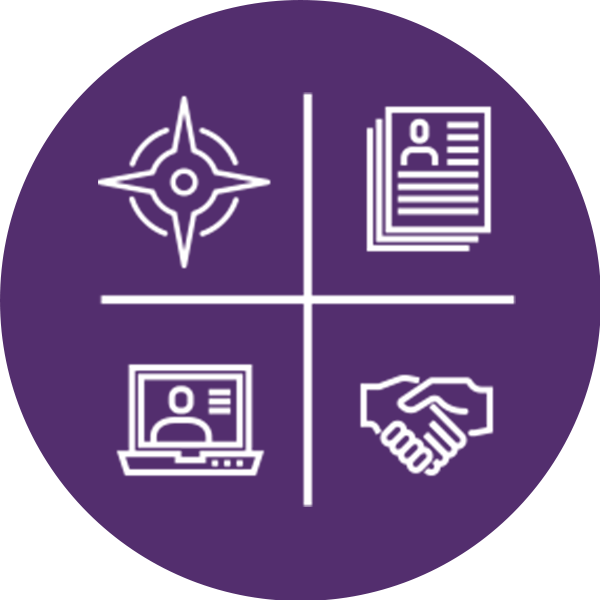 What You Get:
4 different career paths uniquely customized to you based on the CAREER COMPASS method.

Resume formatted to your favorite career path.

LinkedIn profile formatted to your favorite career path.

Customized cover letter for the job of your choice.

Customized thank you note template for the job of your choice.
What You Do:
Complete pre-work that's interesting, fun, and for many clients, provides new insights into their professional motivation and skills.

Complete a professional assessment.

Have an in-depth preference discussion with a career coach.

Provide final approval on the preferred career path, refreshed resume, and LinkedIn profile.
Why Does it Matter?
 By doing the Career Compass program you significantly shorten the time it takes you to identify the job that is right for you. Career Compass takes you through a proven method to determine your career path, plus options for the right direction to take your career. And it's fun!
UPCOMING OR RECENT
COLLEGE GRADUATES
Knowing what your next step should be in starting your career can be challenging as a new graduate. From defining what your perfect job looks like to preparing for interviews and refining your resume, JWS Group can help you navigate this new path for the first time.
PROFESSIONALS IN A
JOB TRANSITION
Transitioning careers can come with obvious difficulties and some unexpected obstacles. Feeling prepared as you enter this next stage in your career can make all the difference as you move forward – and we're here to make sure you transition confidently.
LEADERS IN THEIR FIRST
PEOPLE-MANAGEMENT ROLE
Whether it's figuring out the best way to have a difficult performance discussion, deliver a thoughtful performance review, create an enterprise-wide strategy, hire for success, retain a high potential employee or plan and position your roles for increasing responsibility – we can help!
How Much Time Does It Take?
The average client completes the program in less than 3 weeks.
An Investment In Yourself
Our Career Compass is $750.