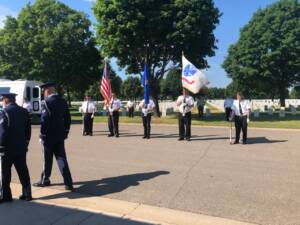 By: Julie Shipman, Career Coach
Have a question or comment? Connect with me at Julie.shipman@jwsgroupllc.com
My dad served proudly in the United States Air Force. On June 28th his ashes were interred at Fort Snelling National Cemetery. He received a burial with full military honors. In true military fashion, the Cemetery Representative let me know we had 30 minutes for his burial service and not a minute more. The reason; COVID 19 had created a backlog and they were performing 30-40 funerals a day. He was kind when he said, this was not the time for tearful speeches or prolonged graveside conversation. This was a specific sequence of symbolic honors that would recognize the service my dad gave to his country.
My dad's service means something. It will always mean something to me, to my family and to our greater community. We are a family of who serve.
On June 28, 2021, my dad received a 21 gun salute, the playing of taps and the United States flag folded in reverence, then solemnly given to my mom.
My dad loved fireworks and patriotism in equal measure. He displayed the United States flag inside and outside his home. He placed his hand over his heart and got a little choked up every time he sang the national anthem. He gave blood faithfully. He believed univocally in God, democracy, Ronald Reagan and his right to vote.
In his final days, he struggled to remember his history, the names of his daughters and the rules of the game for his beloved Vikings, despite the changes that Alzheimer's inflicted, at his core, he knew who he was.
My dad didn't understand a global pandemic; both functionally and theoretically. He was confused by the need to frequently wash his hands. He would hold them up to show my mom that there was nothing on them, therefore they were clean. Despite that, he got his first COVID vaccine in February and joked with the nurses about his bravery.
He could not understand the rallying cry that had begun to gain momentum that said "My body, my choice". The desecration of our capital was more than he could bear. He lived his life according to his belief to 'love your neighbor as yourself'.
As Independence Day arrived this July, I found myself thinking about my dad, about service and about what it means to be a member of a community; the personal community we create for ourselves and the professional ones we are apart of.
How are we showing up in our communities? What responsibilities do we have to the people that make up those communities? What responsibilities do employers have for the communities they create by first extending a job offer? I would like to ask my dad what he thinks about professional communities now. He ran his own business in the trades for most of his adult life. How would he have navigated this?
I'm pretty sure I know the answer. It lies at the end of our most heated debates.
My dad and I used to discuss the hot topics of the day. Before his Alzheimer's really took hold, we had some intense conversations about our different viewpoints. What my dad taught me, often without me even realizing it, was that we could look at the same issue and see it in a spectrum of gray (or honestly, sometimes black and white) but the absolute in those conversations was the value our relationship. No matter how far apart we were on an issue, he never wavered in his love for me, nor I him. Not. Once.
I hold his wisdom in my heart as I ache for the healthcare community that seems to be close to breaking. I hold his wisdom in my mind as I discuss the merits and importance of getting vaccinated with those that I care about. I hold his wisdom in my body as I release the anger (often rage) when I watch the pundits of the day using salacious and inflammatory language to reinforce the position of their base.
As I think about my career coaching business and I start to think about how COVID vaccinations will impact employers and employees, I hold out hope that putting the needs of our community first will outweigh the need to be right or rigid or domineering with our individual point of view.